This is about the series called Just Dance. For other listings of Just Dance, visit Just Dance (disambiguation).
The Just Dance series is a series of videogames having players follow the dance moves the dancer(s) on the screen are doing. It's first release has had major critcism. Despite this, it has become a big franchise and has became popular with all types of demographics. 
Click on a cover to go to that game's article.
Main Series
Edit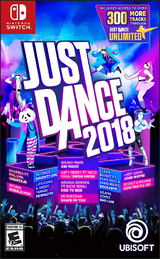 Just Dance Kids series
Edit
A series designed for younger players filled with kid-friendly songs and popular hits.
Just Dance Kids is also referred to as Dance Juniors outside of NTSC, while Just Dance Kids 2 is also referred to as Just Dance Kids outside of NTSC.
Just Dance Wii series
Edit
A series released only in Japan featuring various tunes from that region
Other Games
Edit


While modes vary a lot from games, both in type and how they are run, these are the most prominent ones to appear in the series.
Just Sweat
Edit
For more info, click here
The Just Sweat mode is where the players get tracked down on how much they're working out. The mode has changed throughout the games, but its overall goal stays the same.
For more info, click here
A Medley is a mode that has a dance mix featuring five dances all put into one routine. There have been three types of Medleys shown in its course: the regular one with Solo dances, a Duet Medley, and a Dance Crew Medley.
Simon Says
Edit
For more info, click here
Simon Says is a mode where the player(s) follow what their "gauge" tells them to. They earn or lose points depending on how well they followed the command. Other modes appear in some games that are similarly done like Simon Says, but are differently named.
Non-Stop Shuffle
Edit
The Non-Stop Shuffle mode is a mode where the players can dance to songs non-stop without any interruptions. A modified version of the mode called Speed Shuffle appeared in Just Dance 3 where the same concept happened, but the songs were shortened.
Puppet Master/Party Master
Edit
For more info, click here
The Puppet Master mode is a mode where one player takes control of what dance move to appear next in the song. Starting in Just Dance 2014, the mode was updated and renamed as the Party Master, which allowed the controller to switch songs during the mode.
World Dance Floor
Edit
For more info, click here
The World Dance Floor mode allows people to play online with each other. The mode has people go aganist each other, but it also has people work together towards goals.
Dance Quest
Edit
For more info, click here
The Dance Quest mode has players go against others in mini competitions for dominant glory. Each competition consist of three songs, and the player earns points as they go along.