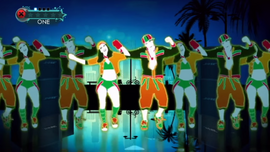 A 
Hold My Hand
dance is a type of performance that involves players to hold their "hands" (Wii Remotes or Playstation Move controllers) as they play. It appears in
Just Dance 3
 and 
Just Dance 4
The layout for a Hold My Hand dance appears as so

Players 1, 3, 5, and 7 would hold a controller with their right hand
Players 2, 4, 6, and 8 would hold a controller with their left hand
Note that the layout would change if less than eight players are playing
From Just Dance 3: Jamaican Dance and Giddy On Up (Giddy On Out) (The latter must be unlocked through Mojo)
From Just Dance 4: Everybody Needs Somebody To Love (Must be unlocked through Mojo)
Jamaican Dance is the only song where the Hold My Hand is considered to be the Classic dance. The other songs are considered alternate dances.
In Just Dance 3, the main dancers are duplicated on-screen to represent eight dancers. In Just Dance 4 however, there are five main dancers with no duplicates.
Ad blocker interference detected!
Wikia is a free-to-use site that makes money from advertising. We have a modified experience for viewers using ad blockers

Wikia is not accessible if you've made further modifications. Remove the custom ad blocker rule(s) and the page will load as expected.